Skip to content
${product.title}
${product_meta.subtitle}
${variant_meta[selected_variant.id].stock_info_text}
${inStockMessage}
Sale Ends
${ props.hours }H ${ props.minutes }M ${ props.seconds }S
${ get_each_price(selected_variant) | format_money }/${content_options.each_text}
${ calculate_discount(discountValue(selected_variant.price, discount_percentage), selected_variant.compare_at_price) } Off ${ calculate_discount(discountValue(selected_variant.selling_plan_allocations[0].price, discount_percentage), selected_variant.compare_at_price) } Off ${ calculate_discount(discountValue(variant_meta[selected_variant.id].subscriptions.discount_variant_price, discount_percentage), selected_variant.compare_at_price) } Off 10,419 Bought Save ${ (selected_variant.compare_at_price - discountValue(selected_variant.price, discount_percentage)) | format_money }
1. Select Quantity
${block.title}
${block.review_1_author}
${block.review_2_author}
${block.review_3_author}

These Soft, Bite-Sized Chews Provide Itch Relief and Immune Support Your Dog Needs in a Treat-Like Form.
POWERFUL BLEND FOR SOOTHING RELIEF
Our Itch & Allergy Chew has been formulated to meet the specific needs of dogs that experience allergies, itchy and flaky skin, and runny noses. Alaskan Salmon Oil, Apple Cider Vinegar, and other beneficial ingredients form the ideal supplement to help give your dog quick itch relief.
HEALTHY INFLAMMATORY RESPONSE
Containing anti-inflammatory ingredients, our chews help make your dog feel better from the inside out. Rest assured they will aid with skin and coat issues, as well as support your dog's joints and heart function.
MEAT FLAVORED CHEWS
Often other chews and tablets are unpalatable and an unenjoyable experience for your dog. Our chews have gone through rigorous taste testing across all breeds to find the perfect blend of flavors so that your pooch will enjoy them and keep coming back for more!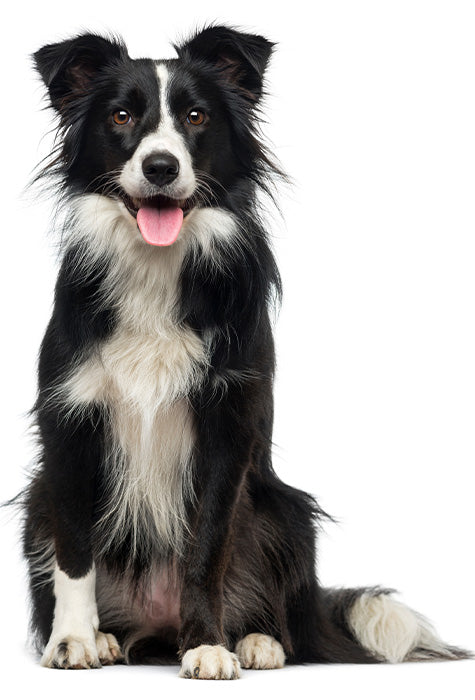 Alaskan Salmon Oil
Containing Omega-3 fatty acids, this premium fish oil helps support your dog's overall skin health and inflammatory pathways.
Soothes itchy and irritated skin
Supports digestive, cognitive, joint, and heart health
By boosting your dog's skin and coat, they will not only be feeling their absolute best, but looking their best as well.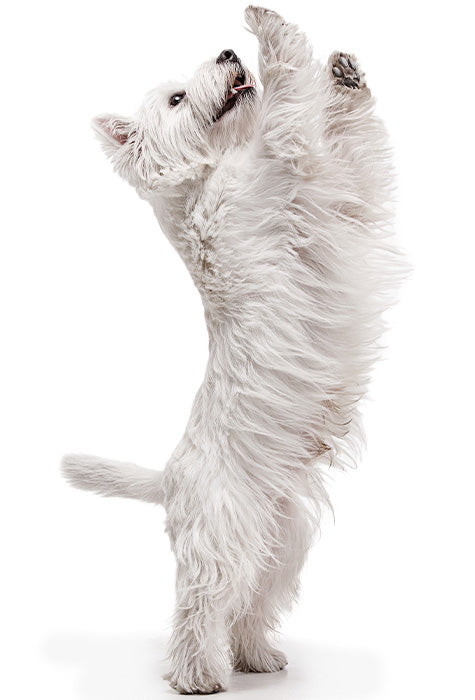 Apple Cider Vinegar
Apple Cider Vinegar is a natural, safe soother thanks to its antioxidant and antifungal properties. It helps alleviate inflamed and itchy skin, allowing your dog to feel quick relief.*
Alleviates inflamed, itchy skin
Promotes a healthier coat
Boosting their immune system and increasing the health of their coat, your dog will be back to its joyous self along with a shiny, rejuvenated coat.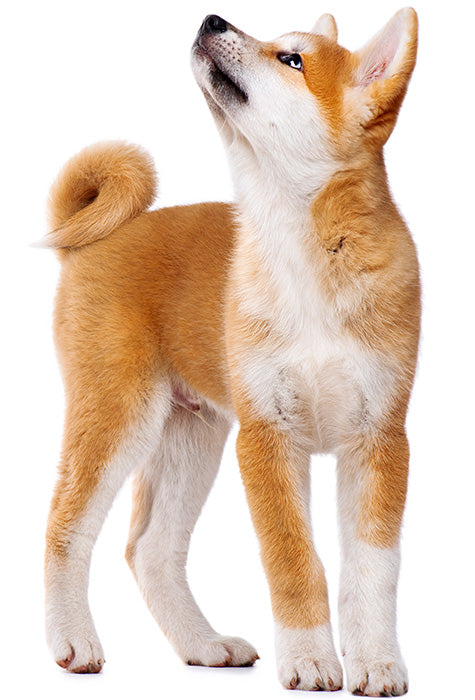 Colostrum
Colostrum is an antibody-rich fluid that is responsible for protecting your pup from infection and inflammation.*
Colostrum is incorporated into our formula for maximum benefits to ensure your dog experiences optimal health.

Additional Ingredients
Licorice, Turmeric, Potato Flour, Cheese Powder, Chickpea Flour, Purified Water, Sunflower Lecithin, Tapioca Starch, Safflower Oil, Natural Beef, Glycerin, Natural Duck Flavor, Ascorbic Acid, Sorbic Acid, Mixed Tocopherols.
Hielm-Björkman A, Roine J, Elo K, Lappalainen A, Junnila J, Laitinen-Vapaavuori O. An un-commissioned randomized, placebo-controlled double-blind study to test the effect of deep sea fish oil as a pain reliever for dogs suffering from canine OA. BMC Vet Res. 2012 Sep 6;8:157. doi: 10.1186/1746-6148-8-157. PMID: 22950577; PMCID: PMC3514349. https://www.ncbi.nlm.nih.gov/pmc/articles/PMC3514349/
Arford, K. (2023, July 11). Fish Oil for Dogs. American Kennel Club. https://www.akc.org/expert-advice/nutrition/fish-oil-for-dogs/
Zicker, S. C., Jewell, D. E., Yamka, R. M., & Milgram, N. W. (2012, September 1). Evaluation of cognitive learning, memory, psychomotor, immunologic, and retinal functions in healthy puppies fed foods fortified with docosahexaenoic acid–rich fish oil from 8 to 52 weeks of age. AVMA. https://avmajournals.avma.org/view/journals/javma/241/5/javma.241.5.583.xml
Solomon, Dr. D. (2018, August 15). Fish oil for dogs and cats: Six benefits. Animal Medical Center of Chicago. https://www.animalmedicalcenterofchicago.com/fish-oil-for-dogs-and-cats-six-benefits/
Ousaaid D, Laaroussi H, Bakour M, Ennaji H, Lyoussi B, El Arabi I. Antifungal and Antibacterial Activities of Apple Vinegar of Different Cultivars. Int J Microbiol. 2021 Aug 7;2021:6087671. doi: 10.1155/2021/6087671. PMID: 34413890; PMCID: PMC8369171. https://www.ncbi.nlm.nih.gov/pmc/articles/PMC8369171/
Almeida, M. M. B., Amin, M. T., Auchter, M., Baimark, Y., Callejón, R. M., Candido, T. L. N., Cerezo, A. B., Charoenkiatkul, S., Chou, C. H., Daglia, M., Signore, A. D., Dong, D., Fushimi, T., Guerreiro, T. M., … Booth, I. R. (2016, October 31). Varieties, production, composition and health benefits of Vinegars: A Review. Food Chemistry. https://www.sciencedirect.com/science/article/abs/pii/S0308814616318076?via%3Dihub
Suh DC, Kim Y, Kim H, Ro J, Cho SW, Yun G, Choi SU, Lee J. Enhanced In Vitro Skin Deposition Properties of Retinyl Palmitate through Its Stabilization by Pectin. Biomol Ther (Seoul). 2014 Jan;22(1):73-7. doi: 10.4062/biomolther.2013.094. PMID: 24596625; PMCID: PMC3936429. https://www.ncbi.nlm.nih.gov/pmc/articles/PMC3936429/
Author links open overlay panelHyosun Jang 1, 1, 2, 3, 4, 5, 6, & Elevated skin surface pH has been reported in patients with atopic dermatitis. In this study. (2016, January 4). Skin ph is the master switch of Kallikrein 5-mediated skin barrier destruction in a murine atopic dermatitis model. Journal of Investigative Dermatology. https://www.sciencedirect.com/science/article/pii/S0022202X15000147
Rossi L, Lumbreras AEV, Vagni S, Dell'Anno M, Bontempo V. Nutritional and Functional Properties of Colostrum in Puppies and Kittens. Animals (Basel). 2021 Nov 15;11(11):3260. doi: 10.3390/ani11113260. PMID: 34827992; PMCID: PMC8614261. https://www.ncbi.nlm.nih.gov/pmc/articles/PMC8614261/
Playford RJ, Weiser MJ. Bovine Colostrum: Its Constituents and Uses. Nutrients. 2021 Jan 18;13(1):265. doi: 10.3390/nu13010265. PMID: 33477653; PMCID: PMC7831509. https://www.ncbi.nlm.nih.gov/pmc/articles/PMC7831509/
Boldogh, I., Aguilera-Aguirre, L., et al. (2008). Colostrinin decreases hypersensitivity and allergic responses to common allergens. Int Arch Allergy Immunol. 146(4): p. 298-306. DOI: 10.1159/000121464. https://pubmed.ncbi.nlm.nih.gov/18367843/
Ulfman, L.H., Leusen, J.H.W., et al. (2018). Effects of Bovine Immunoglobulins on Immune Function, Allergy, and Infection. Front Nutr. 5: p. 52. DOI: 10.3389/fnut.2018.00052. https://pubmed.ncbi.nlm.nih.gov/29988421/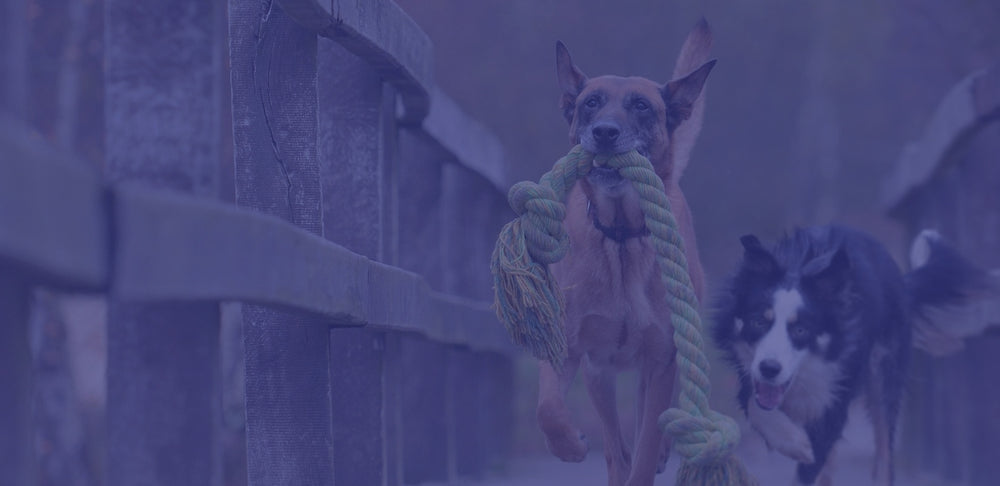 Product FAQ
WHAT IS THIS SUPPLEMENT FOR? DOES IT HAVE THE CORRECT DOSAGE FOR MY DOG'S NEEDS?

PupGrade Itch & Allergy Chew is a chewable supplement for pups of all breeds, sizes, ages, and activity levels who may suffer from allergies.

Our Itch & Allergy Chew is a research-backed formula with just the right amount of essential nutrients for a soothing effect and extra relief.

HOW DO I FEED THIS SUPPLEMENT TO MY DOG?

We recommend following these directions for use:

25 lbs: 1 chew daily.
26-75 lbs: 2 chews daily.*
Over 75 lbs: 3 chews daily.*

*If giving more than 1 chew daily, divide between AM and PM. This product is intended for intermittent or supplemental feeding only.

IS THIS SUPPLEMENT FREE OF GRAIN?

We are a veterinarian-formulated brand you can trust. These chews are made with only the good stuff and are 100% junk free! We are proud to offer your pet savory, GMP-Certified chews free of grains, wheat, corn, artificial colors, dyes, or harmful preservatives.

HOW MANY CHEWS ARE IN THIS CONTAINER?

Each of our Itch & Allergy supplements offers 60 chews per container.

WHAT ARE THE INGREDIENTS INCLUDED IN THIS PRODUCT?

Active Ingredients: Colostrum Powder, Pumpkin Powder, Organic Turmeric, Organic Honey, Wild Alaskan Salmon Oil, Apple Cider Vinegar, Organic Licorice Root, Quercetin, Bee Propolis, and Evening Primrose Oil.

Additional Ingredients: Potato Flour, Sunflower Lecithin, Chickpea Flour, Dired Cheese Colored, Tapioca Starch, Safflower Oil, Purified Water, Glycerin, Powdered Cooked Beef, Cheddar Cheese Flavor, Natural Duck Flavor, Natural Flavor, Sorbic Acid, Ascorbic Acid (Vitamin C), Mixed Tocopherols.

WHAT IS THE GUARANTEED ANALYSIS PER CHEW (4g)?

Calories: 18 Kcal (calories per Kg is 4500 Kcal/Kg)
Crude Protein (Min): 14%
Crude Fat (Min): 29%
Crude Fiber (Max): 4%
Moisture (Max): 10%

ARE THESE CHEWS SAFE FOR MY DOG IF THEY HAVE SENSITIVITIES OR OTHER CONDITIONS?

We understand that every dog has unique needs. That's why we offer supplements tailored to address specific concerns, such as sensitive stomachs. Our supplements contain easily digestible ingredients.

Consult with your veterinarian before giving this supplement to your dog if you have any concerns.

HOW DO I STORE THIS PRODUCT?

Store in a cool, dry place. Ensure container lid is securely closed after each use.
Help Heal Your Pup From The Inside Out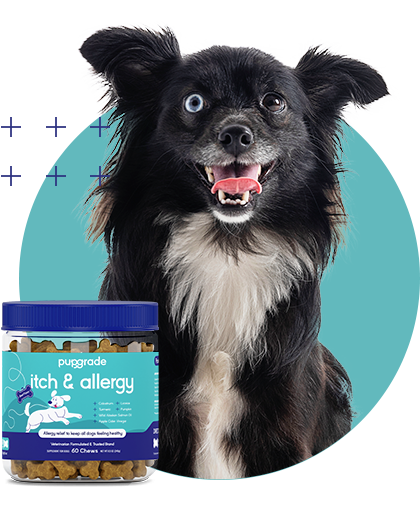 Unlike other allergy and itch supplements, our unique blend offers your dog all the nutrients and benefits necessary to relieve uncomfortable itchy and inflamed skin. Our formula also helps your pup by boosting their immune system and heart function, as well as offers support for their joints.
Your dog will be back to its joyous self in no time!
What Humans Are Saying
See The Difference With PupGrade's Itch & Allergy Chews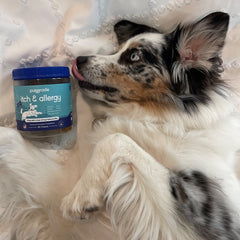 I've been looking for an allergy supplement to give to my pup as she tends to get itchy during walks and runny noses when we go outside. When we were looking at PupGrade's Joint Support, we also came across the Itch & Allergy supplement and with its simple ingredients, I decided to try it. I'm really glad I did because I can already see a difference! She is itching less on our walks in the short time we've tried this supplement. She still gets runny noses but we will continue using as directed and see how it turns out! Overall though, I am happy with it and she is always excited to take it as a treat with her breakfast.
Jenn Vuu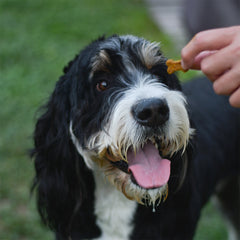 My two Bernedoodles have been struggling with allergies since we moved back to Texas. They started constantly chewing their paws and itching all over. As soon as I found PupGrade's Itch & Allergy chew I knew we had to give it a try! The active ingredients check all the boxes for having happy and healthy pups. The relief has been insane, they aren't chewing at their paws anymore and seem to be in a much more relaxed state over all. And of course, they are always begging for more because they love the taste! I'm so glad I found PupGrade and got relief for my dogs :)
Alexa Aleman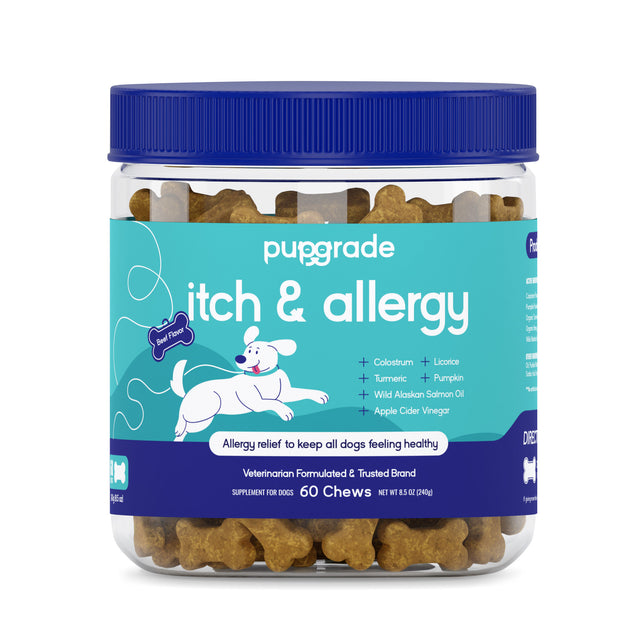 Woof Goodbye to Itchy Skin
See The Difference With PupGrade's Itch & Allergy Chews
Don't let allergies ruin your pup's quality of life. PupGrade Itch & Allergy Chews are a safe and effective way to help your pup beat the itch. These delicious chews are made with a blend of natural ingredients that work to help your pup's skin heal, strengthen their immune system, and their energy levels soar.

"The Itch and Allergy Chews from PupGrade have been a lifesaver! Our dogs were itching their ears all the time and since taking these chews, that they love, the amount of itching and sneezing has gone down significantly! I can truly see a difference already!"
Brittany Havranek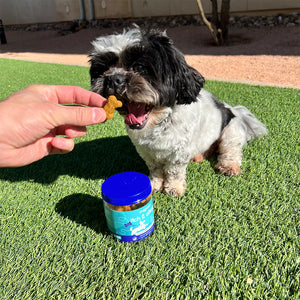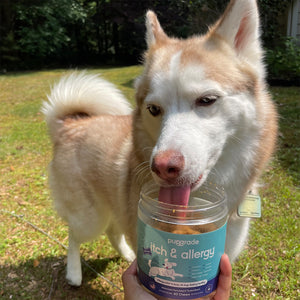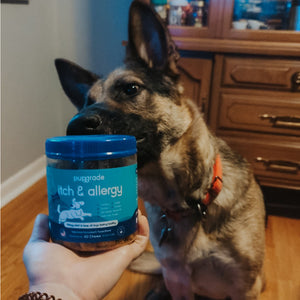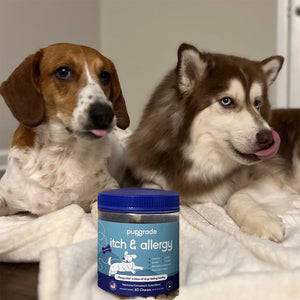 What Humans Are Saying About
PupGrade Itch & Allergy Chew